Sad Hindi Shayari
Har Ek Manzar Par Udasi Chayi Hai,
Chand Ki Roshni Me Bhi Kami Aayi Hai,
Akele Acche The Hum Apne Aashiyane Me,?
Jaane Kyu Toot Kar Aaj Fir Aapki Yaad Aayi Hai. ?
---
💔😞 Sad Shayari in Hindi 💔😞
Mere Dil Ke Har Kone Se Bas Ek Hi Sada Aati Hai,
Is Dil Ko Hamesha Teri Bewafai Yaad Aati Hai,
Mera Dil Bhi Mujhse Bas Yahi Bar Bar Puchta Hai,
Mai Itna Padapta Hu Uske Liye,
Kya Use Bhi Meri Yaad Aati Hai।
---
💔😞 Best Sad Shayari 💔😞
उस बेवफा ने मेरा दिल शीशे की तरह तोड़ दिया,
इसलिए हमने अपनी ज़िन्दगी का रास्ता ही मोड़ लिया,
बस मोहब्बत की बात ही मत करना,
क्योंकि अब हमने मोहब्बत करना ही छोड़ दिया।
---
Hindi Sad Shayari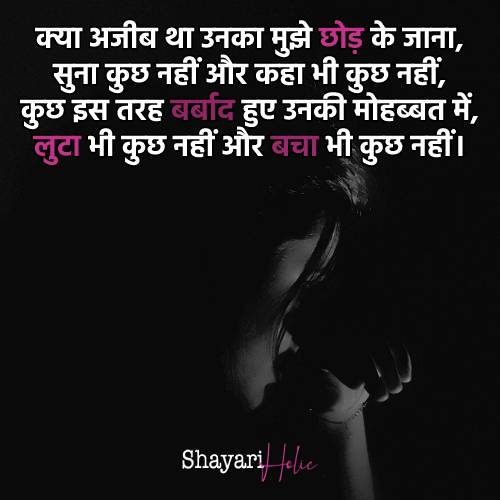 क्या अजीब था उनका मुझे छोड़ के जाना,
सुना कुछ नहीं और कहा भी कुछ नहीं,
कुछ इस तरह बर्बाद हुए उनकी मोहब्बत में,
लुटा भी कुछ नहीं और बचा भी कुछ नहीं।
---
💔😞 Breakup Sad Shayari 💔😞
Mana Ke Tumko Pyaar Nahi,
Nafrat Hi Jataane Aa Jaao,
Sadiyon Se Jaagi Aankhon Ko,
Ek Baar Sulane Aa Jaao,
Jis Mod Pe Humko Chhod Gaye,
Hum Baithe Ab Tak Soch Rahe,
Kya Bhool Huyi Kyun Juda Huye,
Bas Yeh Samjhane Aa Jaao.
This was our Sad Shayari collection. We want to ask you, have you loved our Shayari's? If you need any other, you can tell us in the comment section. In our next update, we will add your desired Shayari to our website. We have collected these Sad Shayari in Hindi from various different sources and we hope you loved all of them. We will keep updating our article. Do not forget to bookmark this page to get more Sad Hindi Shayari anytime, anywhere.
Also Read: Romantic Shayari & Good Morning Shayari
Maybe, you are never get satisfied with the websites that appear in front of you while searching for Sad Shayari. But, no need to worry as we have provided you with the best Shayari only. You can share our shared Sad Shayari Hindi on Facebook, WhatsApp, and Instagram too. Well, most people like to share these on their Social Media timelines where all of their friends can read them. You may also like, Attitude Shayari in Hindi and Love Shayari in Hindi.
No problem if you are also sad and searching for the best Sad Shayari in Hindi for Love. In the above article, we have shared an awesome collection of your desired Sad Hindi Shayari. But, no need to be sad as our Shayari's will give you some relief from pain. We can understand the pain of all lovers and our Sad Shayari collection will work as a medicine for you and your heart. Just try to forget your partner and you will recover yourself faster. So, have a great time. If you faced any Breakup recently you may like reading Sharabi Shayari in Hindi.
Many people do not get satisfied with the Sad Shayari shared on other websites. Why? Because they don't upload Sad Shayari Images with Texts while most people just read Images instead of texts. So, we kept this in our mind while writing this article and we designed some beautiful images for you. We hope you loved our article. We will be going to keep updating our collection with the new Sad Hindi Shayari. So, stay connected with us for getting new Shayari daily.
Now, I Preeta, personally want to say to you something Sadness is temporary. There is always hope for a better future. So, never think that you will be going to live Sad for your whole life. Everyone faces bad times, heartbreaks, and failure in their life. But, this doesn't mean it stuck to our life and we have to face it for the rest of our life. Be Happy and Calm! Just try to recover from this situation and when you will become successful. You will be proud of yourself. 🙂 Our Shayari will help you to heal your sadness.
So, these were some Sad Shayari in Hindi that we liked the most. That's why we have just shared them instead of thousands of others. We personally checked out all of these Sad Hindi Shayari and selected the best one for you. If you are wishing to read more Shayari's like these, let us know in the comment section. Now, you can share Love Sad Shayari on your Social Media profile just by copying it from here. Keep visiting our site for more.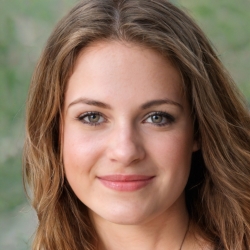 Latest posts by Preeta Singh
(see all)