Sad Shayari in Hindi | सैड शायरी: Feeling sad right now, want to share your sadness with your friend, but don't know how to say? Ah, don't worry about it, because here we share a new fresh collection of Sad Hindi Shayari & Sad Quotes. You can send these Shayari to your friend and share your feelings. Go forward and check it. But, before that let you know we have also shared Dard Bhari Bewafa Shayari on our website, you must check it out too.
Looking for the latest collections of Dard Bhari Sad Hindi Shayari? If yes then you are at the right place. In this article, we are going to share some of the best Sad Status & Shayari for Boys & Girls. We have shared new updated Shayari's that you will like for sure. These Shayari will heal your broken heart and you will feel good as we have selected heart-touching Sad Shayari in Hindi😭 only.
Social Media Lovers like to share Sad Hindi Shayari 2022 on their timelines. Whenever any Indian Girl or Boy gets upset because of Heartbreaks, they start searching for Dard Bhari Shayari on the internet. Why? These Hindi Shayari make them happy and help to get out of that sadness. 🙂 Maybe you are one of those. If you are then you already know how Hindi Shayari Sad works like medicine after a breakup. Now, we can say that we are going to provide you with the best medicine i.e Sad Shayari in Hindi for Girlfriend/Boyfriend through this article.
Sad Shayari in Hindi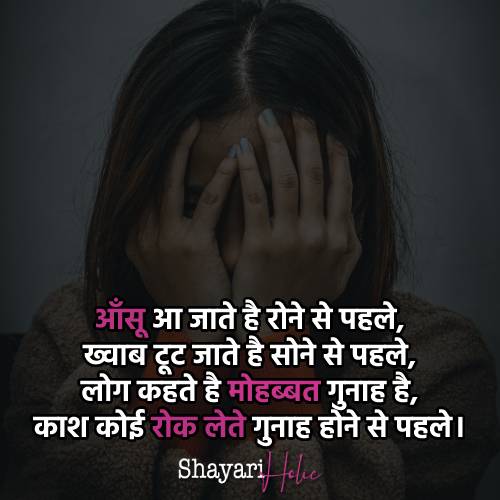 Sad Shayari
😢आँसू आ जाते है रोने से पहले,
ख्वाब टूट जाते है सोने से पहले,
लोग कहते है मोहब्बत💔 गुनाह है,
काश कोई रोक लेते गुनाह होने से पहले।
---
सैड शायरी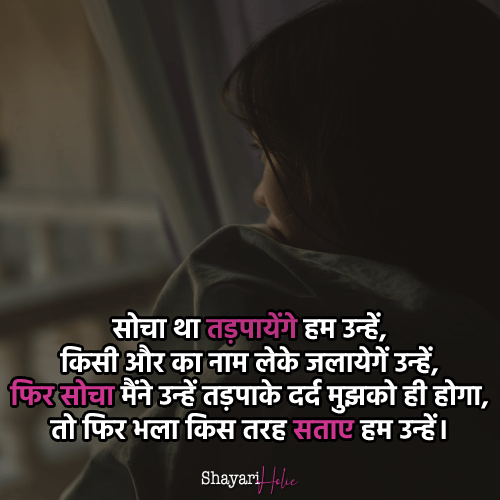 सोचा था तड़पायेंगे हम उन्हें,
किसी और का नाम लेके जलायेगें उन्हें,
फिर सोचा मैंने उन्हें तड़पाके दर्द मुझको ही होगा,
तो फिर भला किस तरह सताए हम उन्हें।
---
Sad Quote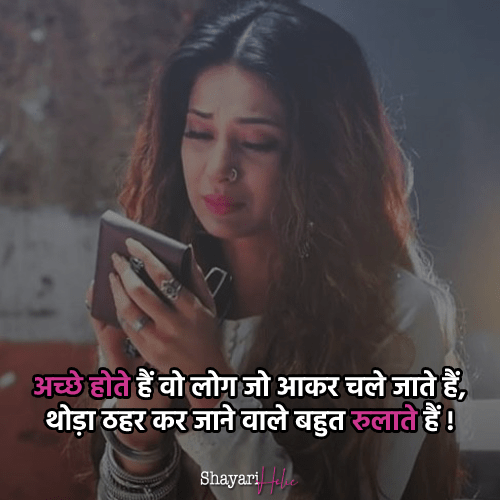 अच्छे होते हैं वो लोग जो आकर चले जाते हैं,
थोड़ा ठहर कर जाने वाले बहुत रुलाते हैं !
---
Sad Shayari For Love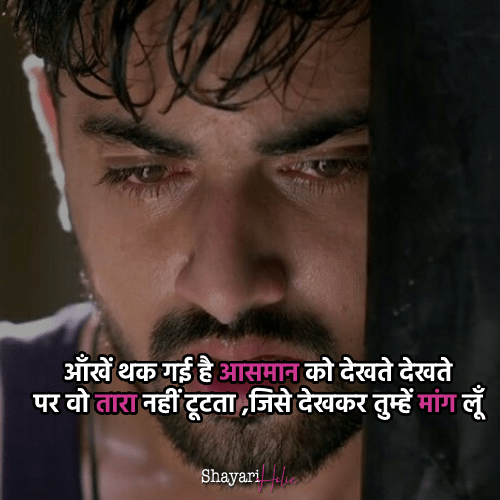 आँखें थक गई है आसमान को देखते देखते
पर वो तारा नहीं टूटता ,जिसे देखकर तुम्हें मांग लूँ
---
Sad Hindi Shayari 💔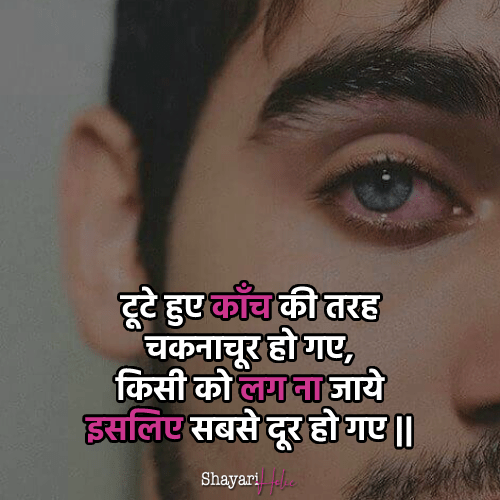 टूटे हुए काँच की तरह
चकनाचूर हो गए,
किसी को लग ना जाये
इसलिए सबसे दूर हो गए🥺।।
---
Sad Shayari 😭 Hindi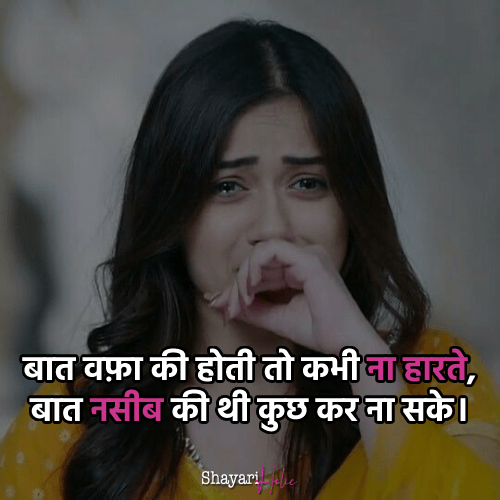 बात वफ़ा की होती तो कभी ना हारते,
बात नसीब की थी कुछ कर ना सके।
---
Love Sad Shayari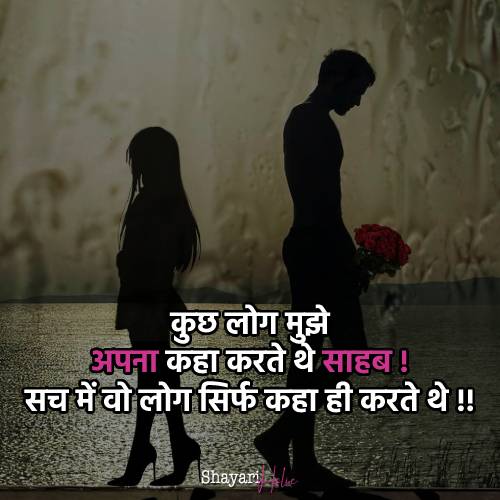 कुछ लोग मुझे
अपना कहा करते थे साहब !
सच में वो लोग सिर्फ कहा ही करते थे !!
---
💔😞 Sad Shayari Hindi 😞💔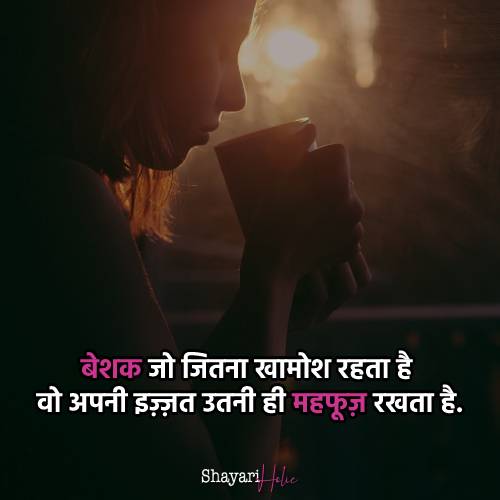 बेशक जो जितना खामोश रहता है
वो अपनी इज़्ज़त उतनी ही महफूज़ रखता है.
---
💔😞 सैड शायरी 😞💔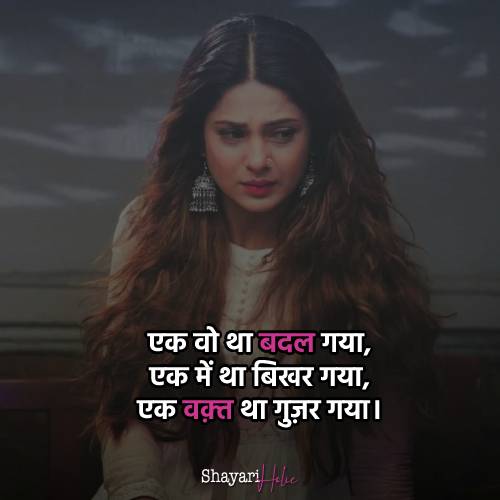 एक वो था बदल गया,
एक में था बिखर गया,
एक वक़्त था गुज़र गया।
---
💔😞 Hindi Sad Shayari 😞💔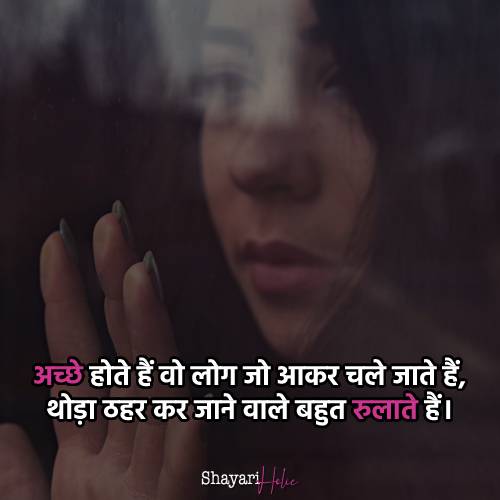 अच्छे होते हैं वो लोग जो आकर चले जाते हैं,
थोड़ा ठहर कर जाने वाले बहुत रुलाते हैं।
---
Sad Shayari in Hindi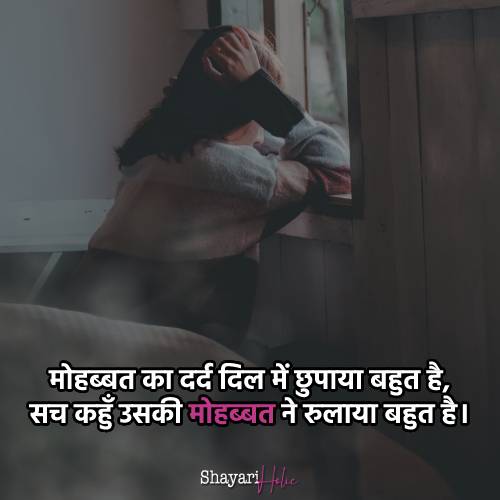 मोहब्बत का दर्द दिल में छुपाया बहुत है,
सच कहुँ उसकी मोहब्बत ने रुलाया बहुत है।
---
Amazing Sad Shayari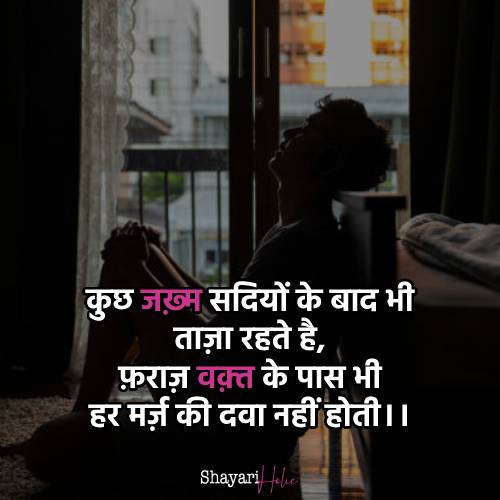 कुछ जख़्म सदियों के बाद भी
ताज़ा रहते है,
फ़राज़ वक़्त के पास भी
हर मर्ज़ की दवा नहीं होती।।
---
Very Sad Shayari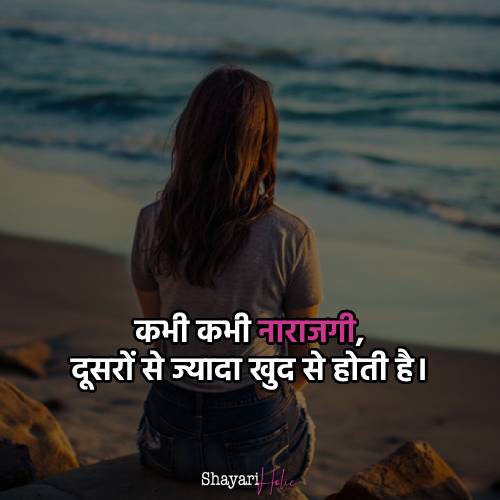 कभी कभी नाराजगी,
दूसरों से ज्यादा खुद से होती है।
---
Sad Shayari for Love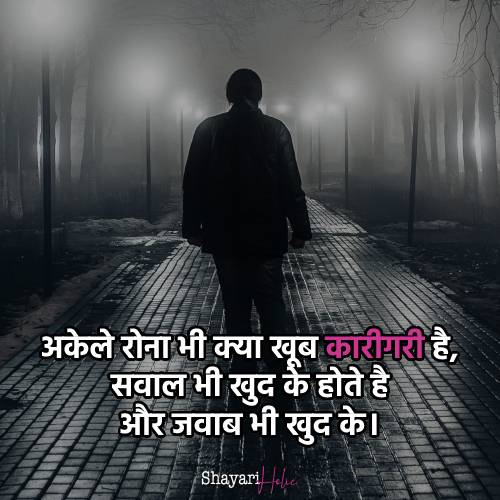 अकेले रोना भी क्या खूब कारीगरी है,
सवाल भी खुद के होते है
और जवाब भी खुद के।
---
Sad Shayari for Breakup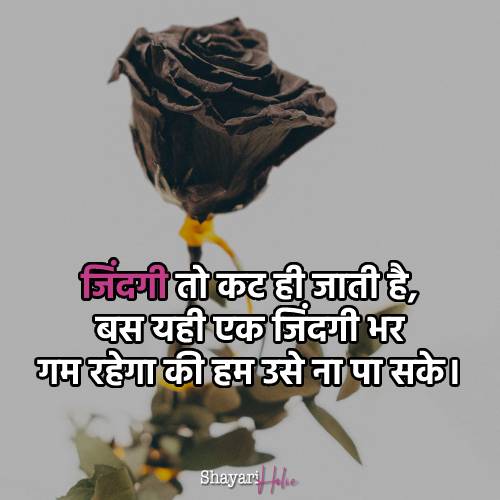 जिंदगी तो कट ही जाती है,
बस यही एक जिंदगी भर
गम रहेगा की हम उसे ना पा सके।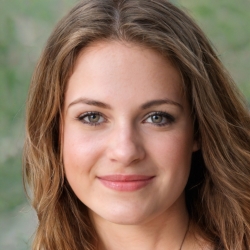 Latest posts by Preeta Singh
(see all)