Birthday Shayari: The birthday is special for everyone, we all are so happy on our birthday. You know Birthday Wishes play a major role for make us happy on our birthday. When someone wishes us a birthday with a lovable quote, a smile forms on our faces while reading those quotes. You know you can be the reason for someone's happiness on their special day, How? By sending these amazing Hindi Birthday Shayari 2023 on their birthday.
We rarely find images with good quotes for birthdays, but don't have to worry about it anymore because here we will share Birthday Shayari with Images that you will definitely love. Read and post it on your social media platform when it's someone's birthday. You can send them to your parents, brother, sister, and friends and let them feel special on their special day. I know they will love it. And they feel happy that you sweet message on their Birthday. You might also like our Love Shayari & Friendship Shayari.
Birthday Shayari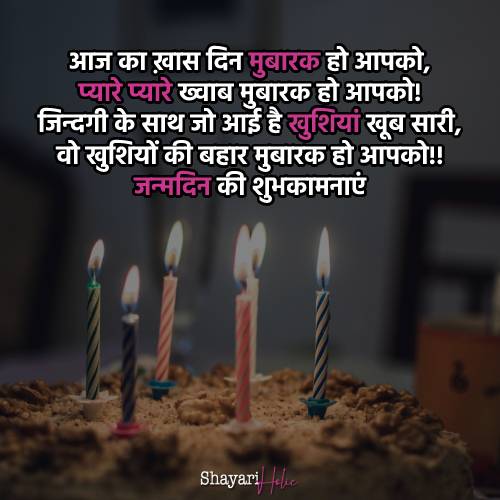 आज का ख़ास दिन मुबारक हो आपको,
प्यारे प्यारे ख्वाब मुबारक हो आपको!
जिन्दगी के साथ जो आई है खुशियां खूब सारी,
वो खुशियों की बहार मुबारक हो आपको!!
जन्मदिन की शुभकामनाएं
---
Birthday Shayari in Hindi
हैप्पी बर्थडे आपको भेजा है पैगाम।
जश्न मनाओ आज तुम ख़ुशी भरी हो शाम।।
---
Hindi Birthday Shayari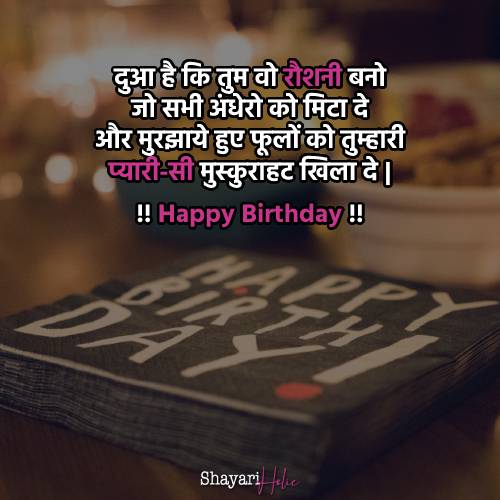 दुआ है कि तुम वो रौशनी बनो
जो सभी अंधेरो को मिटा दे
और मुरझाये हुए फूलों को तुम्हारी
प्यारी-सी मुस्कुराहट खिला दे |
---
Birthday Hindi Shayari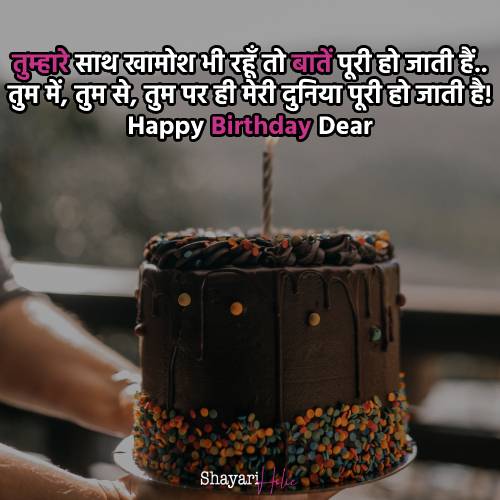 तुम्हारे साथ खामोश भी रहूँ तो बातें पूरी हो जाती हैं..
तुम में, तुम से, तुम पर ही मेरी दुनिया पूरी हो जाती है!
Happy Birthday Dear
---
Birthday Shayari Image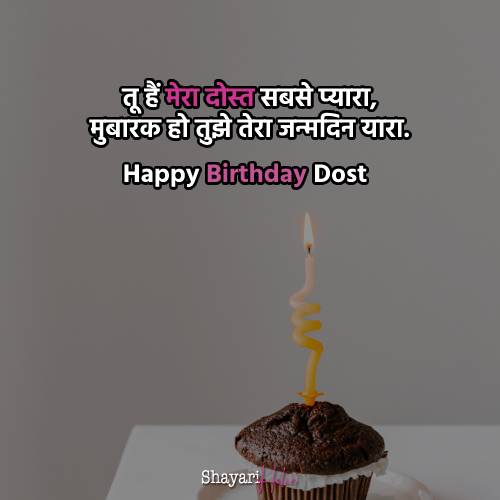 तू हैं मेरा दोस्त सबसे प्यारा,
मुबारक हो तुझे तेरा जन्मदिन यारा.
---
Happy Birthday Wishes
Count your life by smiles,
not tears.
Count your age by friends,
not years.
Happy birthday!"
---
Birthday Wishes for Friends
Your Grace, Beauty
And Strength Inspire
Me Every Day My
Lovely Friend Happy
Birthday To You !!
---
Birthday Shayari Love
एक ही बात ज़माने की किताबों में नहीं,
जो नशा है तेरी मोहब्बत में वो शराबों में नहीं
हेप्पी बर्थडे माय लव
---
New Birthday Wishes
Happy birthday!
Remember that the
best is yet to come.
---
Birthday Shayari for Brother
फूलो सा महके जीवन तुम्हारा,
हर खुशियां चूमे कदम तुम्हारा,
बस यूँ ही बना रहे साथ हमारा।
!! हैप्पी बर्थडे भैया !!
So guys did you like it? I really want to know that did you liked our Happy Birthday Wishes or not, so please let me know. Your beautiful comments really inspire and motivate us. Now it is your time to send these Birthday Shayari to your friends and make them feel happy. We have also shared Good Morning Shayari, which you must check out as that also makes our loved ones happy when they see it in our message.
This was our ultimate collection of Birthday Shayari Love. We hope you loved our article. It's time to share them whenever it's someone's birthday and let them know that they are special to you. We will keep trying to provide you with new Hindi Shayari on our site. Stay up to date with us. Now it's your time to share New Birthday Wishes. We keep updating our article so that you always get the latest one.
Latest posts by Anjali Sharma
(see all)