Love Sad Shayari
इश्क करना तो लगता है जैसे,
मौत से भी बड़ी एक सजा है,
क्या किसी से शिकायत करें हम,
जब अपनी तकदीर ही बेवफा है।
---
💔😞 Sad Quotes 😞💔
Dillagi Thi Use Hum Se Mohabbat Kab Thi,
Mehfil-e-Gair Se Uss Ko Fursat Kab Thi,
Kahte Toh Hum Mohabbat Mein Fanaah Ho Jate,
Uss Ke Vaadon Mein Par Woh Hakiqat Kab Thi.
---
💔😞 Sad Shayari in Hindi for Girlfriend 😞💔
दिल से रोये मगर होंठो से मुस्कुरा बैठे,
यूँ ही हम किसी से वफ़ा निभा बैठे,
वो हमे एक लम्हा न दे पाए प्यार का,
और हम उनके लिये जिंदगी लुटा बैठे।
---
💔😞 Sad Shayari Download 😞💔
Aap Hote Jo Mere Saath Toh Achha Hota,
Ban Jati Agar Baat Toh Achha Hota,
Sabne Manga Hai Mujhse Mohabbat Ka Jawab,
Aap Karte Jo Sawalat Toh Achha Hota.
---
💔😞 Zindagi Sad Shayari Shayari 😞💔
Dil Se Roye Magar Honto Se Muskura Beithe,
Yunhi Hum Kisi Se Wafa Nibha Beithe,
Wo Hame Ek Lamha Na De Paye Apne Pyar Ka,
Aur Hum Unke Liye Apni Zindagi Gawa Beithe.
---
💔😞 Sad Shayari For Love 😞💔
Bahut Khamoshi Se Gujri Ja Rahi Hai Zindgi,
Na Khushion Ki Raunak Na Gamo Ka Koi Shor,
Aahista Hi Sahi Par Kat Jayega Yeh Safar,
Na Aayega Dil Mein Uske Siwa Koi Aur.
---
💔😞 Sad Shayari in Hindi For Boyfriend 😞💔
मुझे तुझसे कोई शिकवा या शिकायत नहीं,
शायद मेरे नसीब में तेरी चाहत नहीं है,
मेरी तकदीर लिखकर खुदा भी मुकर गया,
मैंने पूछा तो बोला ये मेरी लिखावट नहीं है।
---
2 Line Sad Shayari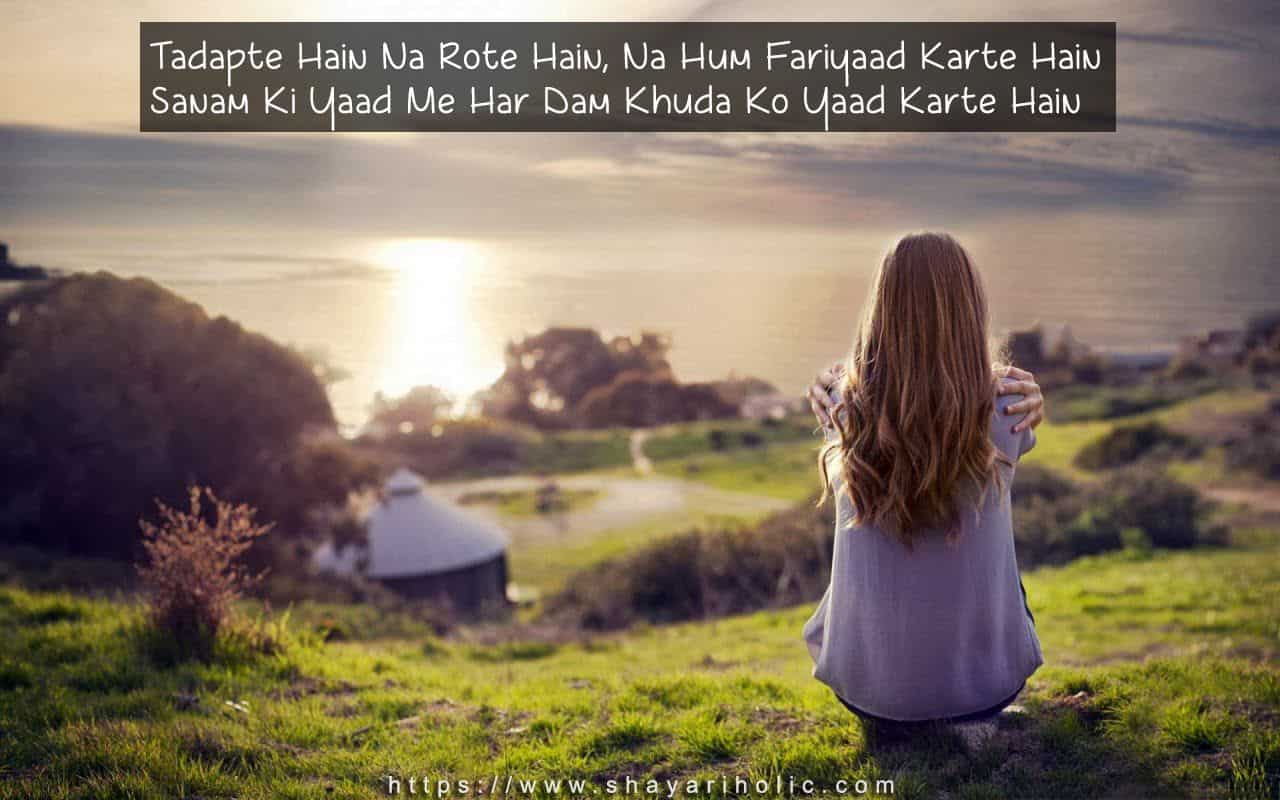 Tadapte Hain Na Rote Hain, Na Hum Fariyaad Karte Hain
Sanam Ki Yaad Me Har Dam Khuda Ko Yaad Karte Hain
---
💔😞 Hindi Sad Shayari On Life 😞💔
Iss Mohabbat Ki Kitaab Ke,
Bas Do Hi Sabak Yaad Huye,
Kuchh Tum Jaise Aabaad Huye,
Kuchh Hum Jaise Barbaad Huye.
---
💔😞 Hurt Sad Shayari in Hindi 😞💔
Nafratein Lakh Mili Par Mohabbat Na Mili,
Zindagi Beet Gayi Magar Rahat Na Mili,
Teri Mehfil Mein Har Ek Ko Hansta Dekha,
Ek Main Tha Jise Hasne Ki Ijazat Na Mili.
---
💔😞 Sad Shayari SMS 😞💔
जब भी उनकी गली से गुज़रते हैं,
मेरी आँखें एक दस्तक दे देती हैं,
दुःख ये नहीं वो दरवाजा बंद कर देते हैं,
ख़ुशी ये है कि वो मुझे पहचान लेते हैं।
---
💔😞 Sad Bewafa Shayari 😞💔
Ek Kahani Si Dil Par Likhi Reh Gayi,
Woh Nazar Jo Use Dekhti Reh Gayi,
Woh Bajaar Mein Aakar Bik Bhi Gaye,
Meri Keemat Lagi Ki Lagi Reh Gayi.
---
💔😞 Heart Broken Sad Shayari 😞💔
मोहब्बत की सजा बेमिसाल दी उसने,
उदास रहने की आदत सी डाल दी उसने,
मैंने जब अपना बनाना चाहा उसको,
बातों बातों में बात टाल दी उसने।
---
Sad Shayari Image
Ishq Sabhi Ko Jena Sikha Deta Hai,
Wafa Ke Naam Par Marna Sikha Deta Hai,
Ishq Nahi Kiya To Karke Dekho,
Zalim Har Dard Sehna Sikha Deta Hai!
---
💔😞 Sad Shayari Status 😞💔
Saari Duniya Ke Rooth Jane Se,
Mujhe Koyi Fark Nahi Padta,
Bas Ek Tera Khamosh Rahna,
Bahut Takleef Deta Hai.
---
💔😞 Top Sad Shayari in Hindi 😞💔
तुम्हें ग़ैरों से कब फुर्सत
हम अपने ग़म से कब ख़ाली,
चलो बस हो चुका मिलना
न तुम ख़ाली न हम ख़ाली।
---
💔😞 Sad Hindi Shayari 😞💔
Saanso Ka Tut Jana To
Bahut Choti Baat Hai Doston,
Jab Apne Yaad Karna Chod De
Maut To Use Kahte Hain.
---
💔😞 2 Line Sad Shayari Hindi 😞💔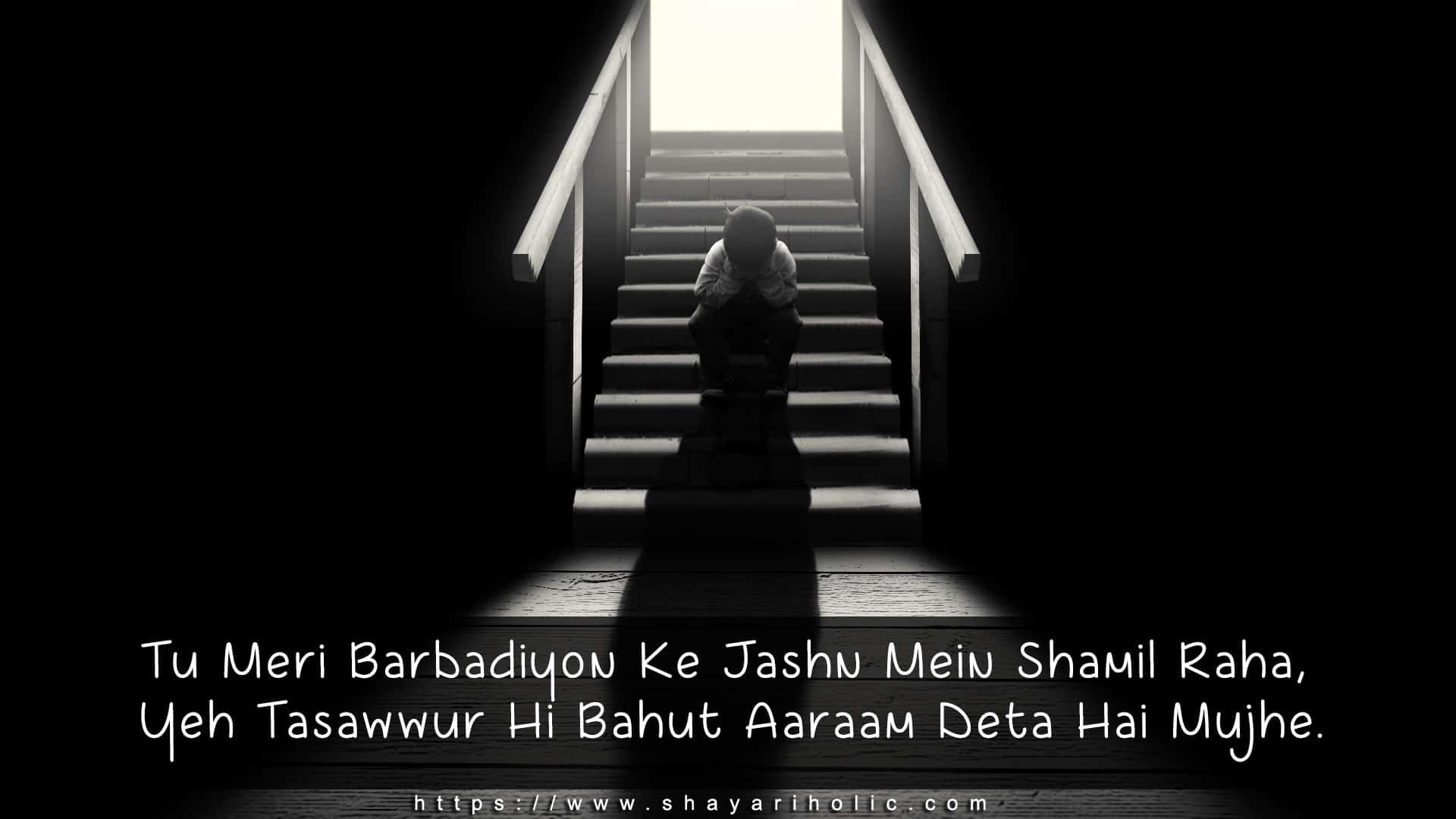 Tu Meri Barbadiyon Ke Jashn Mein Shamil Raha,
Yeh Tasawwur Hi Bahut Aaraam Deta Hai Mujhe.