Sad Shayari in Hindi: Feeling sad right now, want to share your sadness with your friend, but don't know how to say? Ah don't worry about it, because here we share new fresh collection of Sad Shayari. You can send these shayari to your friend and share your feelings. Go forward and check it.
Looking for latest collections of Dard Bhari Sad Hindi Shayari? If yes then you are at the right place. In this article, we are going to share some of the best Sad Status & Shayari for Boys & Girls. We have shared new updated Shayari's that you will like for sure. These Shayari's will heal your broken heart and you will feel good as we have selected heart touching Sad Shayari in hindi only.
Social Media Lovers like to share Sad Hindi Shayari 2022 on their timelines. Whenever any Indian Girl or a Boy gets upset because of Heartbreaks, they start searching for Dard Bhari Shayari on the internet. Why? These Hindi Shayari make them happy and help to get out of that sadness. 🙂 Maybe you are one of those. If you are then you already know how Hindi Shayari Sad works like medicine after a breakup. Now, we can say that we are going to provide you the best medicine i.e Sad Shayari in Hindi for Girlfriend/Boyfriend through this article. Recently, we have shared the Best WhatsApp Status collection too.
Sad Shayari in Hindi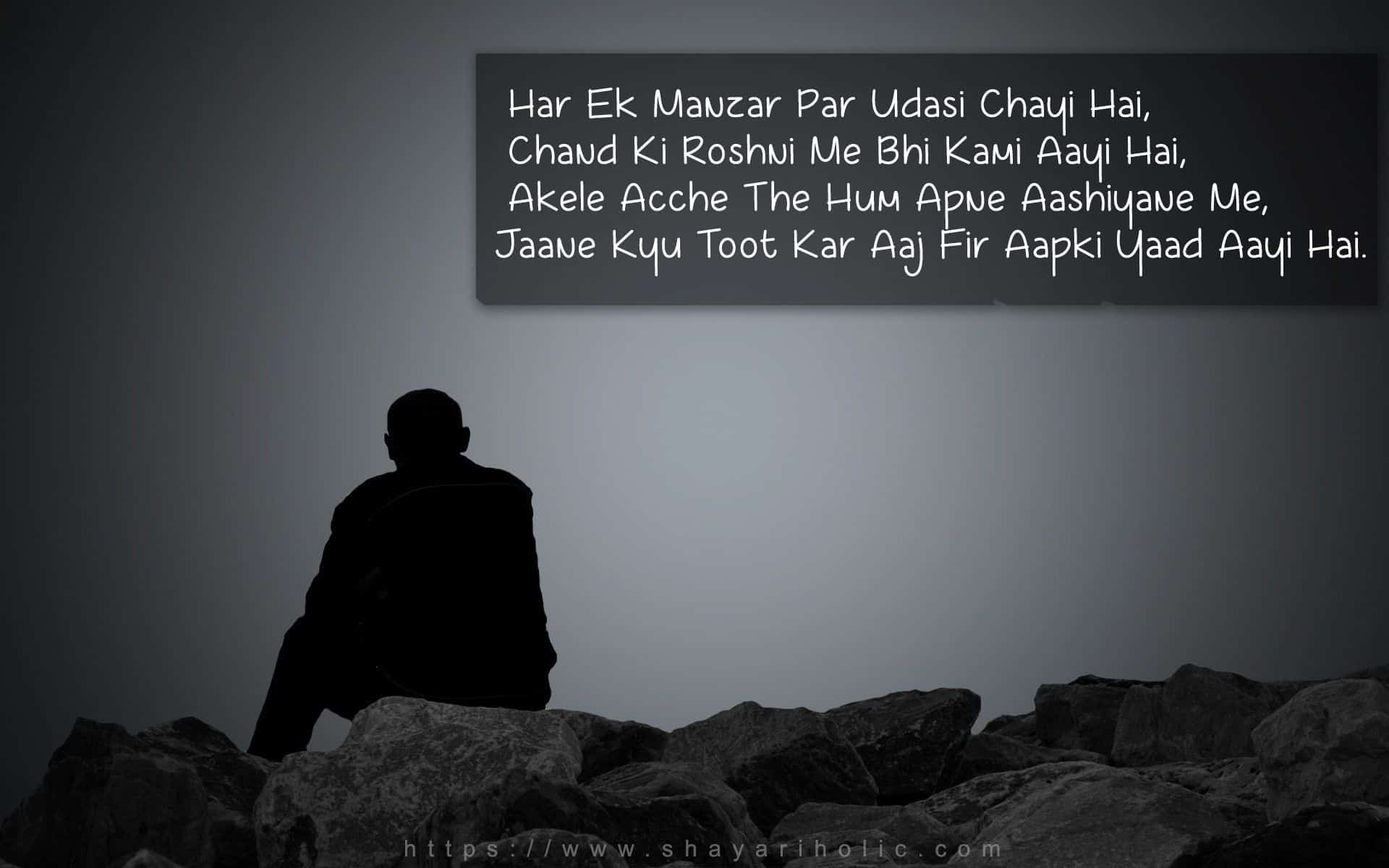 Sad Shayari
Har Ek Manzar Par Udasi Chayi Hai,
Chand Ki Roshni Me Bhi Kami Aayi Hai,
Akele Acche The Hum Apne Aashiyane Me,?
Jaane Kyu Toot Kar Aaj Fir Aapki Yaad Aayi Hai. ?
---
💔😞 Sad Shayari in Hindi 😞💔
Mere Dil Ke Har Kone Se Bas Ek Hi Sada Aati Hai,
Is Dil Ko Hamesha Teri Bewafai Yaad Aati Hai,
Mera Dil Bhi Mujhse Bas Yahi Bar Bar Puchta Hai,
Mai Itna Padapta Hu Uske Liye,
Kya Use Bhi Meri Yaad Aati Hai।
---
💔😞 सैड शायरी 😞💔
उस बेवफा ने मेरा दिल शीशे की तरह तोड़ दिया,
इसलिए हमने अपनी ज़िन्दगी का रास्ता ही मोड़ लिया,
बस मोहब्बत की बात ही मत करना,
क्योंकि अब हमने मोहब्बत करना ही छोड़ दिया।
---
💔😞 Sad Shayari For Love 😞💔
क्या अजीब था उनका मुझे छोड़ के जाना,
सुना कुछ नहीं और कहा भी कुछ नहीं,
कुछ इस तरह बर्बाद हुए उनकी मोहब्बत में,
लुटा भी कुछ नहीं और बचा भी कुछ नहीं।
---
💔😞 Sad Hindi Shayari 😞💔
Mana Ke Tumko Pyaar Nahi,
Nafrat Hi Jataane Aa Jaao,
Sadiyon Se Jaagi Aankhon Ko,
Ek Baar Sulane Aa Jaao,
Jis Mod Pe Humko Chhod Gaye,
Hum Baithe Ab Tak Soch Rahe,
Kya Bhool Huyi Kyun Juda Huye,
Bas Yeh Samjhane Aa Jaao.
---
💔😞 Sad Shayari Hindi 😞💔
पल पल उसका साथ निभाते हम,
एक इशारे पर दुनिया छोड़ जाते हम,
समन्दर के बीच में फरेब किया उसने,
कहते तो किनारे पर ही डूब जाते हम।
---
💔😞 Love Sad Shayari 😞💔
Humne Pyar Mohabbat Nahi Ibaadat Ki Hai,
Rasmon Aur Riwajon Se Bagawat Ki Hai,
Manga Tha Humne Jise Apni Duaon Mein,
Usi Ne Mujhse Juda Hone Ki Chahat Ki Hai.
---
💔😞 Sad Shayari For Lover 😞💔
मैं ख़ामोशी हूँ तेरे मन की,
तू अनकहा अलफ़ाज़ मेरा,
मैं एक उलझा लम्हा हूँ,
तू रूठा हुआ हालात मेरा।
---
💔😞 Sad Shayari Hindi for Life 😞💔
Bagair Jiske Ek Pal Bhi
Gujara Nahi Hota,
Sitam Toh Dekhiye,
Bas Wohi Shakhs Humara Nahi Hota.
---
💔😞 Sad Breakup Shayari 😞💔
Koi Achha Lage Toh Unse Pyaar Mat Karna,
Unke Liye Apni Neendein Bekar Mat Karna,
Do Din Toh Aayenge Khushi Se Milne,
Teesre Din Kahenge Intezaar Mat Karna.
---
💔😞 Love Sad Shayari 😞💔
इश्क करना तो लगता है जैसे,
मौत से भी बड़ी एक सजा है,
क्या किसी से शिकायत करें हम,
जब अपनी तकदीर ही बेवफा है।
---
💔😞 Sad Shayari 😞💔
Dillagi Thi Use Hum Se Mohabbat Kab Thi,
Mehfil-e-Gair Se Uss Ko Fursat Kab Thi,
Kahte Toh Hum Mohabbat Mein Fanaah Ho Jate,
Uss Ke Vaadon Mein Par Woh Hakiqat Kab Thi.
---
💔😞 Sad Shayari in Hindi for Girlfriend 😞💔
दिल से रोये मगर होंठो से मुस्कुरा बैठे,
यूँ ही हम किसी से वफ़ा निभा बैठे,
वो हमे एक लम्हा न दे पाए प्यार का,
और हम उनके लिये जिंदगी लुटा बैठे।
---
💔😞 Sad Shayari Download 😞💔
Aap Hote Jo Mere Saath Toh Achha Hota,
Ban Jati Agar Baat Toh Achha Hota,
Sabne Manga Hai Mujhse Mohabbat Ka Jawab,
Aap Karte Jo Sawalat Toh Achha Hota.
---
💔😞 Zindagi Sad Shayari Shayari 😞💔
Dil Se Roye Magar Honto Se Muskura Beithe,
Yunhi Hum Kisi Se Wafa Nibha Beithe,
Wo Hame Ek Lamha Na De Paye Apne Pyar Ka,
Aur Hum Unke Liye Apni Zindagi Gawa Beithe.
---
💔😞 Sad Shayari For Love 😞💔
Bahut Khamoshi Se Gujri Ja Rahi Hai Zindgi,
Na Khushion Ki Raunak Na Gamo Ka Koi Shor,
Aahista Hi Sahi Par Kat Jayega Yeh Safar,
Na Aayega Dil Mein Uske Siwa Koi Aur.
---
💔😞 Sad Shayari in Hindi For Boyfriend 😞💔
मुझे तुझसे कोई शिकवा या शिकायत नहीं,
शायद मेरे नसीब में तेरी चाहत नहीं है,
मेरी तकदीर लिखकर खुदा भी मुकर गया,
मैंने पूछा तो बोला ये मेरी लिखावट नहीं है।
---
💔😞 2 Line Sad Shayari 😞💔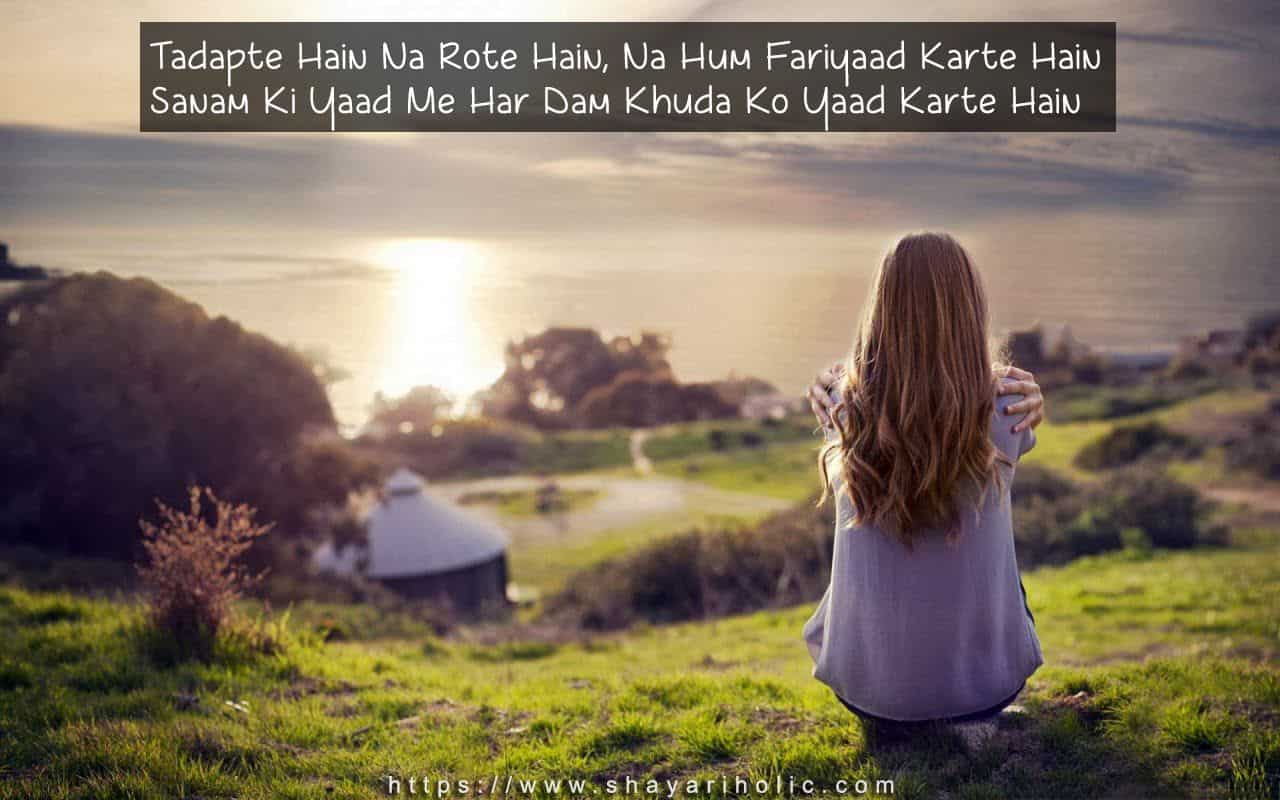 Tadapte Hain Na Rote Hain, Na Hum Fariyaad Karte Hain
Sanam Ki Yaad Me Har Dam Khuda Ko Yaad Karte Hain
---
💔😞 Hindi Sad Shayari On Life 😞💔
Iss Mohabbat Ki Kitaab Ke,
Bas Do Hi Sabak Yaad Huye,
Kuchh Tum Jaise Aabaad Huye,
Kuchh Hum Jaise Barbaad Huye.
---
💔😞 Hurt Sad Shayari in Hindi 😞💔
Nafratein Lakh Mili Par Mohabbat Na Mili,
Zindagi Beet Gayi Magar Rahat Na Mili,
Teri Mehfil Mein Har Ek Ko Hansta Dekha,
Ek Main Tha Jise Hasne Ki Ijazat Na Mili.
---
💔😞 Sad Shayari SMS 😞💔
जब भी उनकी गली से गुज़रते हैं,
मेरी आँखें एक दस्तक दे देती हैं,
दुःख ये नहीं वो दरवाजा बंद कर देते हैं,
ख़ुशी ये है कि वो मुझे पहचान लेते हैं।
---
💔😞 Sad Bewafa Shayari 😞💔
Ek Kahani Si Dil Par Likhi Reh Gayi,
Woh Nazar Jo Use Dekhti Reh Gayi,
Woh Bajaar Mein Aakar Bik Bhi Gaye,
Meri Keemat Lagi Ki Lagi Reh Gayi.
---
💔😞 Heart Broken Sad Shayari 😞💔
मोहब्बत की सजा बेमिसाल दी उसने,
उदास रहने की आदत सी डाल दी उसने,
मैंने जब अपना बनाना चाहा उसको,
बातों बातों में बात टाल दी उसने।
---
💔😞 Sad Shayari Image 😞💔
Ishq Sabhi Ko Jena Sikha Deta Hai,
Wafa Ke Naam Par Marna Sikha Deta Hai,
Ishq Nahi Kiya To Karke Dekho,
Zalim Har Dard Sehna Sikha Deta Hai!
---
💔😞 Sad Shayari Status 😞💔
Saari Duniya Ke Rooth Jane Se,
Mujhe Koyi Fark Nahi Padta,
Bas Ek Tera Khamosh Rahna,
Bahut Takleef Deta Hai.
---
💔😞 Top Sad Shayari in Hindi 😞💔
तुम्हें ग़ैरों से कब फुर्सत
हम अपने ग़म से कब ख़ाली,
चलो बस हो चुका मिलना
न तुम ख़ाली न हम ख़ाली।
---
💔😞 Sad Hindi Shayari 😞💔
Saanso Ka Tut Jana To
Bahut Choti Baat Hai Doston,
Jab Apne Yaad Karna Chod De
Maut To Use Kahte Hain.
---
💔😞 2 Line Sad Shayari Hindi 😞💔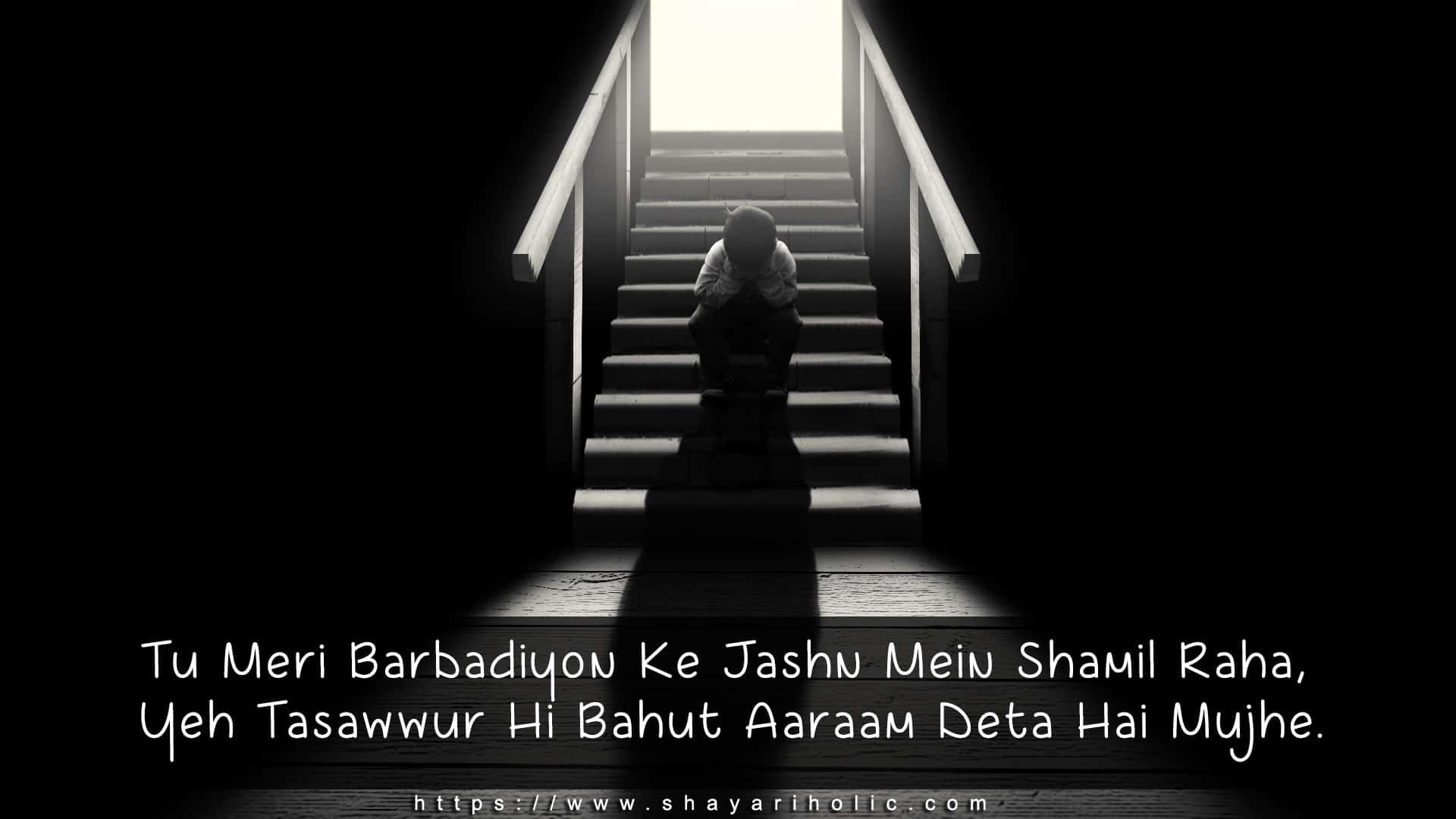 Tu Meri Barbadiyon Ke Jashn Mein Shamil Raha,
Yeh Tasawwur Hi Bahut Aaraam Deta Hai Mujhe.